Here at Active Adventures we love a celebration, birthdays, awards, babies, weddings, we love it all. So, it goes without saying that we'd be celebrating International Women's Day and we're all stoked to be able to tell you about some of the amazing women here at Active and their awesome achievements
To give you a rundown of who we are, we're led by Wendy van Lieshout, our CEO. Wendy's accomplishments in the business world alone will drop your jaw in admiration and we couldn't ask for a better role model. In the office 19 out of 31 staff are female and from our 35 New Zealand guides, 24 are female. Outdoor adventure guiding has long been a male dominated industry and we're happy to be living proof that times are changing.
Just asking our team about their achievements was inspiring. The most uplifting thing was seeing the team beam with pride in sharing not their own stories, but each other's. International Women's Day isn't just about celebrating our own success, it's about empowering and supporting other women to continue breaking norms and being epic.
We discovered pretty quickly that our ladies are badass (let's be honest, we already knew), check out some of their feats below...
Jackie and Carrie:
Recently two of our guides, Jackie and Carrie, completed the Coast to Coast race. For those of you that are unfamiliar, this race runs from the west coast of New Zealand through Arthurs Pass National Park, it involves running, cycling and kayaking elements over a whopping 243 kilometers.
We'll let Jackie do the talking here...
I completed the Coast to Coast this year with my team mate Carrie. It had always been a dream of mine but as I got into my twenties I kind of thought it was too late to start up multisport. Anyway, I was working with Carrie and we had been talking about how epic it would be. One night we were about to head out for dinner and we decided then and there we had to sign up. I had minimal experience paddling, had never ridden a road bike and I had just signed up to do the biggest adventure race in NZ. Nearly a year later there I was standing at the start line with 1000's of other competitors. The energy was incredible. The first leg of mine was a 2.2km run followed by a bike ride. The run was an absolute breeze, but the bike definitely tested my mental limit. At only 20km I realised I had gone way too hard and was struggling. The energy and enthusiasm from all the riders around kept me going, the motivation from everyone I spoke to was incredible.
Crossing the finish on day two was unbelievable. Such an emotional feeling to have completed the event. The next couple of days were the hardest. One year of hype and training and now nothing - so I somehow found myself signing up for next year!!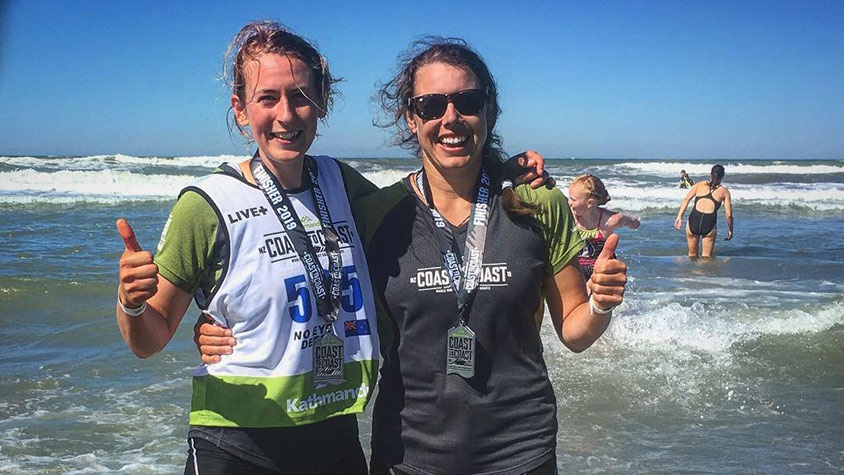 Fe and Miri:
Fe, our Groups Travel Manager, together with Miriam, our New Zealand specialist and another friend Alexa, competed in the Spring Challenge adventure race in September 2018. This women's only event includes rafting, mountain biking, running, orienteering and canoeing.
Things didn't get off to a great start at 6am with a 2km run to the rafts, during which Fe managed to lose her shoe in a mud hole (which they did get back after some scrambling, though they were now towards the back of the group). After 12 km of rafting down the Buller River, the team transitioned to their mountain bikes for a 24km leg through muddy fields, all while collecting checkpoints. From there it was onto an 8km orienteering leg around cape Foulwind where Fe's handy navigation skills jumped them ahead.
Afterwards it was back on the bike for 25km where Alexa's mountain bike prowess shone through! After this stage, the team jumped into inflatable canoes which they paddled incircles for a while, until Miriam the paddling guru got to steering them back on track. They got a shock at the next transition when a marshal told them they were in 10th place! Well that was the breath of fresh air they needed and the next 17km bike leg was a breeze! This led into a final 10km orienteering stage which tested any strand of patience they had left.
Their achievement well surpassed their expectations, coming in 5th place (out of 170 teams) in 11 hours and 5 minutes, just behind the professional adventure racer teams! What a dream team!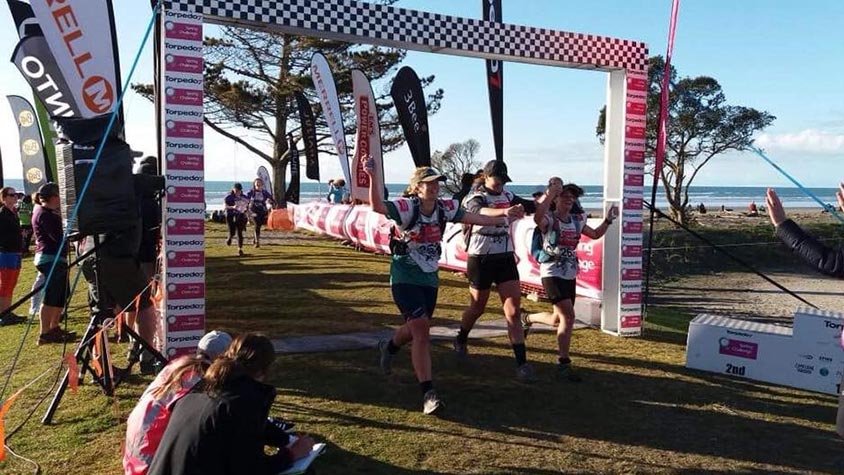 Mel:
Mel is one of our guides and leads trips in New Zealand and Nepal, but in August 2018 she decided to head to some new mountains and summit Mt Elbrus in Russia, sitting at 5642m it's the highest mountain in Europe!
Mel made sure she was well prepared and even did a mountaineering course here in Queenstown. She has completed multiple treks in the Himalayas at high altitude so she was aware of the difficulties ahead.
The adventure started in Moscow and she spent several days doing acclimatisation hikes in the Baksan valley before heading off to tackle Elbrus.
The day started early and the skies we're clear but as the hours passed the mountain began to cloud in around the summit. This didn't put a dampener on Mel, she was there to make it to the top and once she got up there, she even pushed out a few press ups for good measure!
Summit day took 9 hours and she counts herself lucky as winds were too strong for any summits the following day – we doubt this is the end of Mel's ventures.
These are just a few of so many other inspiring stories of our Active women - off trail marathons, mountain bike racing, swimming across channels and triathlons, there's too many to mention! We're so proud of the women in our team and hope they all continue to be the amazing, strong and inspiring women they are!
We'd love to hear about the badass women in your life so drop us a comment and if you're on trip with us soon, be sure to ask your AA guide what inspiring things they've done!